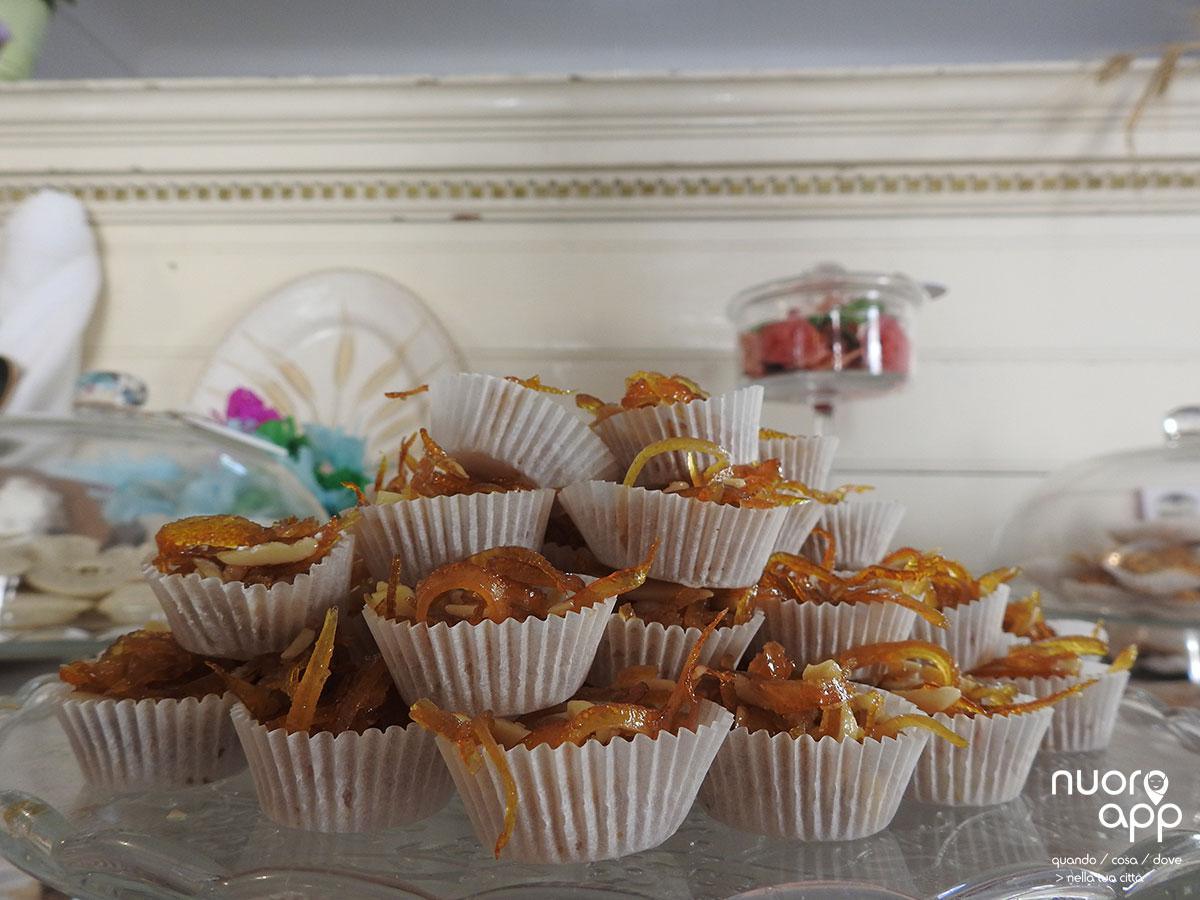 Ears ("Orillettas")
Typical in carnival made of thin and wavy pasta, fried and drown in hot honey.
"Sebada" (Or seada)
It's a disc of pasta filled of cheese and limon, fried and covered of honey. The Sebada is one of the products most famous, its name comes from the word "sebu" (lard of animal) for its aspect sparkly and fat. Even if now is considered a dessert, in ancient times was consumed as second course or even only course in holydays, mostly in periods where the sheperds came back from farms and brought fresh pecorino cheese.
Orange juiced ("aranzada")
Peel of oranges candied with honey and chip of cooked almond. At the end of the XIX century the bakery Battista Guiso patent the name "Nuorese orange juice" (Aranciata nuorese) the original pastry of golden strings, making it known in all the island and beyond. One of the costumers were the Savoia's family and even the English Royal Family, the original boxes were made in wood and cardboard with the title of Forniture of the Royal House and the Savoia's emblem.
"Papassinos"
Biscuits made of butter or lard and dried fruits (walnut, almond and raisin), can be coverd with powdered sugar. Traditionaly they're prepared for Halloween and the 2th of november.
Pancake ("Sas Cattas")
Light pancakes of no defined form, served hot and covered in honey or sugar. In the tradition they are made in the period of the carnival.
The homemades ("Sas casadinas")
Little baskets of pasta filled with cheese or ricotta. Traditionaly made in easter.
The little hearts ("Sos coricheddos")
Symbol of the tradition of the Nuorese bakery, they are made only for special events, in particular they are gifted to the future wives. Made of rolled pasta, typically in form of an heart, or drop, diamond, or peacock, decored meticulously. Inside they are filled of almond, honey and peel of lemon and sugar.
Casizzòlu with apples
Is just cheese roasted and served with honey.